Master Series - Abacus Vice Double Bar Pincher
XR Brands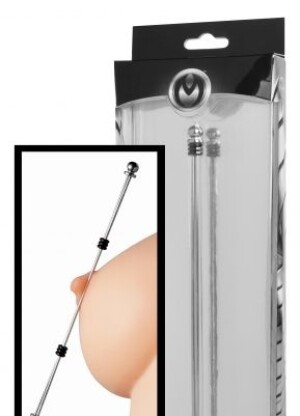 The two metal bars of the Abacus Vice Double Bar Pincher are held together by six stretchable rubber bands, three at each end. When you move the bands closer to the center of the pincher, the pinch gets tighter. Couldn't be easier to use. It goes from extremely tight (but pleasurable) with the bands at the far ends of the seven-inch pincher to excruciatingly, soprano-voice-inducing tight if the bands are moved in even a little. Overall, this pincher does the job without any frills.
Market Appeal
XB Brands' Master Series Abacus Vice Double Bar Pincher is a simple pinching device. It comes in a box with a clear plastic front that displays the actual toy. The back of the box has a few images of ways in which the pincher can be used. The design of the pincher is uncomplicated.
For more information, contact XR Brands:
Manufacturer Description:
The Abacus Vice is a modern, sleek, deceptively simple design adapted from an ancient pinching technique comprised of two rods and elastic bands. Simple in form and sensual in function, the Abacus Vice has many applications. To enjoy, separate the two rods and slip over the desired body part. You can use it on the clit, labia, nipples, frenulum....you are limited by your own imagination. Once it is in position, slowly slide the rings inward to create increased pressure. The visual display is stunning and the pleasure is intense. Try several at once for a truly captivating experience....

Copyright © 2023 Adnet Media. All Rights Reserved. XBIZ is a trademark of Adnet Media.
Reproduction in whole or in part in any form or medium without express written permission is prohibited.