Pussy Juice Vagina Scented Lube - 8.25 oz
XR Brands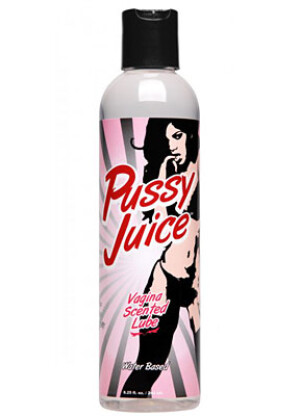 Imagine a land of peace and serenity. As far as the eye can see there are lush fields of green and in the distance you spot a small gazebo. It is so beautiful and so ornate that it brings a tear to your eye. In the center of this gazebo is a lush pile of pillows with a small table next to it and on the table there is a "massager" that name rhymes with wasachi and a small crystal teacup. This is where I imagine Pussy Juice comes from but as it turns out it comes from XR Brands. Vagina-scented lube has been a need, nay, a desire of mine for many years. XR brands have quite possibly nailed it, just the right amount of essence to make you imagination run wild.
Market Appeal
People in general like to get back to their roots, get back to nature, get back to where they came from. Well there's not much more natural than a vagina. Let your customers be the forward thinking progressives they tell all their friends they are.
For more information, contact XR Brands:
Manufacturer Description:
This uniquely scented lube gives you the smell of a wet, juicy pussy, bottled for on demand pleasure. Just squirt it on and rub it to activate the scent molecules, giving you the aroma of a nice, healthy pussy. Use it for everything. Squirt it on your toys, on your hands, on your partner. It does not smell like much in the bottle, but once you warm it up you will agree that it is the closest thing you can get to the real thing.

Copyright © 2023 Adnet Media. All Rights Reserved. XBIZ is a trademark of Adnet Media.
Reproduction in whole or in part in any form or medium without express written permission is prohibited.