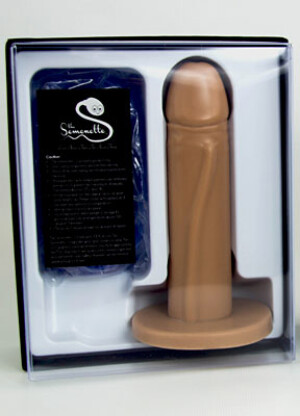 I decided to "test" out the product solo, to get more familiar with its features. The color fits my girlfriend and me perfectly as we are a bi-racial couple. The shape of the head and veined shaft mimic that of the real thing. The length is also a realistic 6.5." The package comes with several parts (including extras for sterility purposes) and easy-to-understand directions. Its medical grade silicone makes for quick and easy clean up. I decided to use plain water for the "testing liquid," and I was able to assemble and fill it in less than 90 seconds. Upon insertion I found that my body was just as excited to test this product as I was. It filled me perfectly and when it came time for the "grand finale," I felt something I have not felt for many years. The feeling in comparison to the real thing was spot-on. For round two, I decided to use it during partner play. The anticipation of the grand finale alone heightened the level of arousal for both me and my girlfriend. For the first time ever, I was — in a sense — able to feel her climax inside of me. I have already convinced several of my friends to order this amazing pleasure tool.

Market Appeal

The Semenette by Berman Innovations comes packaged with an outer black casing with the eye-catching Semenette logo. There are no pictures on the outer box (just the phrase "Even Better Than The Real Thing") so it draws people in to wonder about the contents of this mysterious black box. The inner box containing the Semenette is see-through, enabling the seller to visually present the product without removing its contents. This product is perfect for the retail store, as a counter display, or the home party as it is sure to spark up conversation, and makes a great demo item. Due to the nature of this item it could easily fulfill the needs of ejaculation fetish users, those looking to expand their family, individuals and/or couples looking for a more realistic experience with pleasure toys, or simply anyone looking for a premium quality dildo.
Manufacturer Description:
Looking for an even deeper way to connect with your partner? Don't want just another sex toy that doesn't take into consideration your desire for intimacy, privacy, and authenticity? The Semenette® is for you. The Semenette®, a novelty sex toy that allows partners to mimic traditional intercourse through its proprietary inner tubing and pump system, re-creating intercourse and ejaculation in the privacy of their own home. No more using turkey basters or syringes to mimic an ejaculation with your partner – The Semenette® allows you to have a very realistic and intimate experience whenever the mood strikes. Who knows, maybe you can even conceive with love while having a little fun!
This novelty sex toy sets itself apart with its superior design and advanced proprietary technology, mimicking traditional male ejaculation. The Semenette® is more than a squirting dildo, giving you the capability to remove and replace the functional components each time you use it. The Semenette® is ideal for a lesbian couple or a single woman who wants to re-create the feeling and experience of traditional ejaculation in the privacy of their own home while having a little fun, as well. The Semenette® is not a pharmaceutical product. This novelty sex toy is simply for women who want to simulate the traditional intercourse and ejaculation process with the aid of a safe, fun novelty toy. The Semenette® allows both partners to be involved in the love making process! This product is the first of its kind to allow women to safely and privately mimic traditional ejaculation and have it feel like a truly authentic, enjoyable, and FUN experience!
Copyright © 2023 Adnet Media. All Rights Reserved. XBIZ is a trademark of Adnet Media.
Reproduction in whole or in part in any form or medium without express written permission is prohibited.