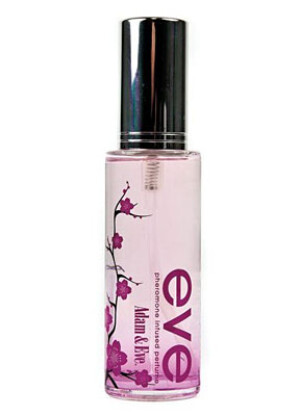 I love the smell of the Eve Pheromone Infused Perfume by Adam & Eve. When I sprayed it on, it smelled flowery at first, then changed to a clean soft fruity scent after settling into my skin. It was not overpowering at all and kept its scent for hours after my first application. It comes in a two-ounce designer glass bottle. The perfume blends with your natural scent to enhance sex appeal and confidence. When I went out, I felt like I was getting more attention than usual. This little bottle will definitely boost the power of your body's natural attraction to the same or opposite sex, depending on your preference.
Manufacturer Description:
Women: boost the power of your body's natural attraction with Adam & Eve's potent pheromone perfume! Just one spray from this sophisticated 2 fl. oz. designer glass bottle lifts your mood with a feminine blossom scent—and uses the power of infused pheromones to draw your target like a magnet! The perfume blends with your natural scent to enhance sex appeal and confidence.
• Eve Pheromone Infused Perfume
• Potent pheromone perfume spray for women
• In designer 2 fl. oz glass bottle
• Light and feminine blossom scent
• Pheromone infused to boost attraction
• Blends with and augments your natural scent
• Long lasting for extended pheromone power
• From Adam & Eve's top designers
Discover the key to unlocking your body's full attraction potential: Eve Pheromone Infused Perfume! Over and over, Adam & Eve customers have clamored for a potent pheromone formula that works for women. We listened. And now it's here.
Packed in a gorgeous designer glass bottle, this pheromone perfume at first glance looks like any other high-end fragrance. But when you dispense a single spray of its light blossom scent, you'll also unleash the power of pheromones. Eve Perfume's pheromone-infused formula adds to your body's natural attraction pheromones to 'signal boost' your scent. Get up close and personal with the one you've got your eye on… and don't be surprised when they want to get even closer.
Eve Pheromone Infused Perfume makes a great romantic gift. Tuck it into a purse or travel bag for easy anytime use. This light yet long-lasting fragrance is perfect for the club, date night, or adding sex appeal to your every day routine.
Ingredients: Alcohol Dent, Water (Aqua), Pheromones, Parfum, Red 40
Copyright © 2023 Adnet Media. All Rights Reserved. XBIZ is a trademark of Adnet Media.
Reproduction in whole or in part in any form or medium without express written permission is prohibited.