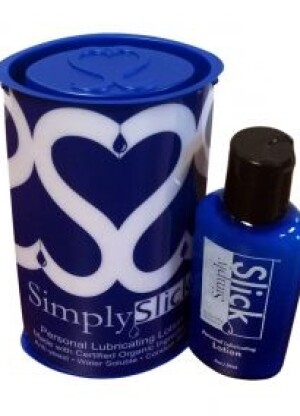 So it says water-based but the first ingredient is castor oil. Yes, you read right. And there's jojoba oil in it, too. They say its condom safe. "Ha," I thought. "No way with all that oil in it!" But you know what? I tested it myself by stretching a condom over a champagne flute and then doused it with Simply Slick in various concentrations, including a puddle of it on the top. I left it on for minutes, hours, days and there was absolutely no degradation of the condom. I am shocked! SHOCKED!

Market Appeal

It will take a bit of convincing your customer that even though it says "oil" on it, it is truly condom compatible. Have them try the small, two-ounce bottle because they will soon find out themselves that they will love the consistency, the versatility, and the smoothness of Simply Slick.
Manufacturer Description:
Simply Slick is an oil & water hybrid lubricant that has science on its side! Slick and creamy with a non-staining formula and a skin-friendly pH balance - this lube has also been shown to fight yeast, microbes and fungus. The secret is the castor oil, a wonderful, natural oil with medically-proven healing properties. Simply Slick is also condom-safe and oral-friendly with a little hint of stevia added to sweeten your sex life.

Copyright © 2023 Adnet Media. All Rights Reserved. XBIZ is a trademark of Adnet Media.
Reproduction in whole or in part in any form or medium without express written permission is prohibited.