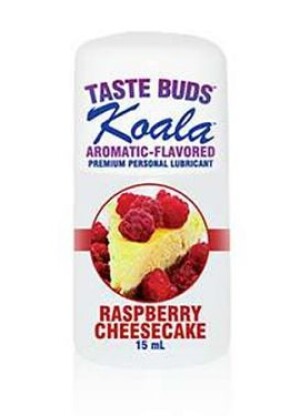 Say you're on a diet and you really love oral sex as much as you like to eat raspberry-topped cheesecake. Then I have good news for you, my friend. Now you can combine two of your favorite calorie-burning activities in one when you use the raspberry cheesecake flavored lube from Nature Labs. This slightly thick, water-based lube with carrageenan in it (as a thickener), stays where you need it to when you want to have that finger-lickin' dessert you crave. Go ahead. Treat yourself and screw the diet! You'll lose weight with all the delicious oral sex you'll be having using the Koala Raspberry Cheesecake flavored lube.
Manufacturer Description:
Koala premium flavored lubricants contain three key ingredients. carrageenan, L-lysine and royal jelly. Royal jelly contains vitamins A, C, D, E, B1, B2, B3, B6 and B12. It contains folic acid, and amino acids. These amino acids are essential for growth and repair of our cells and tissues and are thought to be of great importance in helping combat 'free radicals' in the body. We only use the finest premium ingredients available.
• Aromatic Scents & Layered Flavors
• Water based/ Easily washes away
• pH Balanced & Hypoallergenic
• 100% Food Grade Ingredients
• Glycerin & Paraben Free
• Latex, Plastic & Rubber Compatible
• No Residue, Non Staining
• Proudly Made In The USA

Copyright © 2023 Adnet Media. All Rights Reserved. XBIZ is a trademark of Adnet Media.
Reproduction in whole or in part in any form or medium without express written permission is prohibited.