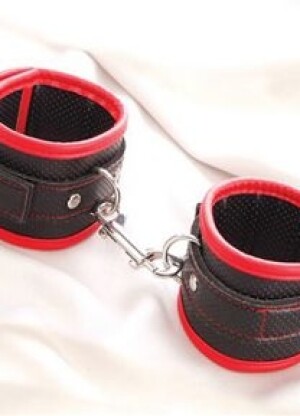 The Adam & Eve Scarlet Couture Bondage toy is a set of bondage cuffs. The box displays the product in full detail without the need for a cheesy model with bedroom eyes and parted lips. There is also a description of the product that includes the creative phrase "vegan leather," which, unless they are specifically targeting a particular demographic, is a very creative way of saying "pleather." Despite not being constructed of real leather, the cuffs are sturdy and comfortable to wear. The cuffs are wide and somewhat stiff, which can make it tricky to get them on tight enough to be realistically restricting. However, once properly bound, they are a durable cuff.

Market Appeal

They aren't covered in fuzz and going to fall apart on you. They are easier to use than the buckle style and aren't as intimidating as set of hard leather cuffs. These cuffs would make a descent starter cuff for someone who wants to try being restricted for real.
Manufacturer Description:
Cuffs offer multiple ways for restraining your lover and leaving them at your mercy!
• Restrain your lover's ankles and wrists together
• Use them to fasten your lover to the bed, shower rod, or similar object
• Cuffs close with easy-on and easy-off Velcro strips
• Clip together quickly and easily with metal hook
• Fully adjustable to fit everyone
• Made from vegan leather, an animal-safe alternative to real leather
• Contains 2 cuffs
With two restraints, you can fasten one around each of your lover's wrists and fasten their hands together. Or you can cuff their ankles together so they can't walk! You can even slip one restraint on your lover and wrap the other around a bed post or shower rod so your lover can't run away! With these versatile bondage cuffs, there's all kinds of kinky fun awaiting you and your partner.
Copyright © 2023 Adnet Media. All Rights Reserved. XBIZ is a trademark of Adnet Media.
Reproduction in whole or in part in any form or medium without express written permission is prohibited.