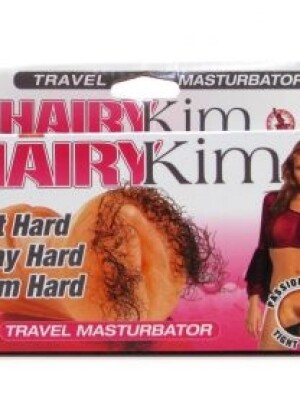 In life, science, electricity, nature and even porno, things happen in waves. Back in the hay day of '80s porno, it was all about bush — and I mean full bush. Then things trimmed up in the '90s and then the 2000s hit and everyone is bare, like fully waxed off, 100 percent gone. Now bush is back and it's better than ever and I personally love the bejeebus out of it. Now what if you have no real bush sitting naked in front of you and you want to grab some me-time with your favorite bush-filled porno.

Nasstoys has your solution with Hairy Kim. The stand-up masturbator technology we know and love from Nasstoys but with a great bunch of lady hairs donned around the entrance to the silicone nobby goodness. Surprisingly real-feel pubis that doesn't take away from the masturbator experience. A great buy for any bush lover or lover to be.

Market Appeal

Since there is such a boom in bush porno nowadays, this is a real easy sell. Might I recommend going with the good ole "buy this toy, get the bush porno for half off" type situation? The customer will always want something to use as motivation with his new masturbator plus if you throw in one at a discounted price odds are more will follow at regular price.

For more information, contact Nasstoys:
Manufacturer Description:
Get hard, stay hard, and cum hard on the go with this travel masturbator.
• Realistic masturbators
• Squishy soft
• Ez travel companions
• A tight natural grip
• Waterproof
Copyright © 2023 Adnet Media. All Rights Reserved. XBIZ is a trademark of Adnet Media.
Reproduction in whole or in part in any form or medium without express written permission is prohibited.