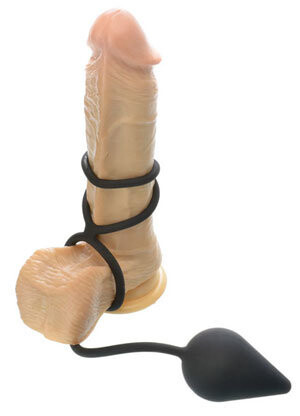 While it is always recommended to apply a suitable lube when using toys, this multi-ringed teaser gets exceptionally slippery. The pure silicone toy creates a personal bondage session that you can use in multiple ways. The packaging does a superb job in giving visual direction by depicting a dildo with all three rings applied and the teaser just hanging. There are no other directions so hopefully that is all you need.
We used a water-based lube to help with the placement of the cock and ball rings, which provided some comical entertainment with testes slipping out here and there. The two cock rings themselves are each 1.25 inches wide. They definitely provide a snug fit but are stretchy enough as to not be uncomfortable. The anal teaser has a pleasant taper shape to it that makes it not so intimidating to those trying new things. This felt like a good item for those wanting something easy and affordable to explore new horizons.
For more information, contact Adam & Eve:
Product Description:
Triple your thrills with one amazing design! Your A&E Cock & Ball Anal Teaser is crafted from durable, easy to clean silicone with everything you need on one stretchy leash.
The plug is tapered for easy insertion, takes lube like a champ for easy comfort and carefree stimulation. It'll be easier to put on the penis rings while flaccid or before full erection. Then feel the magic begin! That stretchy ball strap will introduce you to feelings you've never had before. More importantly, when combined, the rings, strap and plug will give you a bold concert of out-of-this-world sensations –– and that's before you do anything with your partner, or solo!
For easy clean-up use Adam & Eve Toy Cleaner and a hot water rinse, or use warm soapy water. Pat dry, store in a cool dry place away from other sex toys.