Dominant Submissive Collection Ultimate Studded Chain Whip
Nasstoys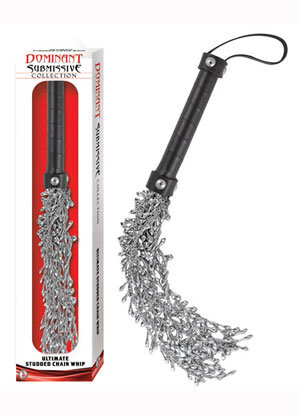 This is an interesting whip! Rather than leather or some other kind of fabric material, the strands of the whip are chains made of little teardrop-shaped pendants that provide a different type of sensation than I was used to. The chain doesn't cause much pain at all — unless you really put some strength behind your swing. It feels exciting when it's used to tickle my skin. The cool little metalic pendants feel so nice when they're gently trailed against me.
For more information, contact Nasstoys:
Product Description:
Flexible chains can be used for delicate Tickles or hard spanks.
Materials: Wood & PVC, Pendants – ABS, Chains – iron
Size: Handle length – 7.25", Whip length – 16"