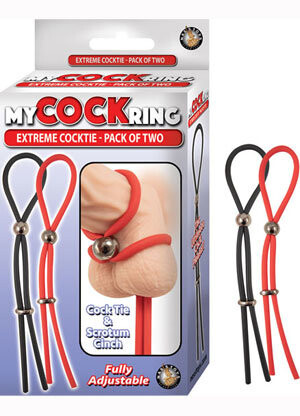 This is one of the most simply designed tie-and-cinch devices that we have used to date. The cock tie did a fantastic job of maintaining constant pressure in all the vital spots while the bottom loop retained a firm cinch around the balls. We were pleasantly surprised to find a release mechanism on the buckle. Even while using a lubricant we never noticed slippage while in use. It was a relief to not have to re-tighten at all.
There are not a whole lot of moving parts with this setup, so it was easy to figure out how to use it right away. The tubes are made from a .25" diameter rubber hose and come in a black-and-red color scheme. These are really basic, but will get the job done.
For more information, contact Nasstoys:
Product Description:
The ultimate cock pleaser. IT's a fully adjustable cock tie and scrotum cinch. Splash proof and waterproof, too! Phthalates free.