Natural RealSkin Squirting Penis #1
Nasstoys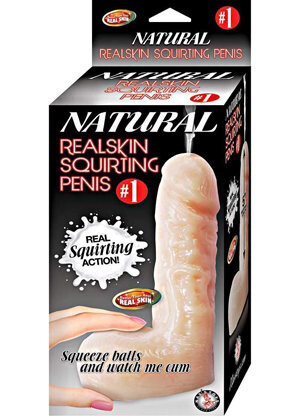 At last, my fantasies have come true! I now have a dick that can squirt inside of me and not get me pregnant! This junior sized squirter is just 5" long and 1 3/8" wide with tasty balls that load up with whatever I want to put in them. I can put water in it and hey, why not put yellow water in it so I can live my golden showers fantasy without smelling like pee. Or fill it with my favorite flavored, non-dairy creamer so I can actually enjoy swallowing the juicy load when I squirt it in my mouth. This squirting penis is sure gonna be fun!
For more information, contact Nasstoys:
Product Description:
Natural Realskin Squirting Penis number 1 Dildo. Real squirting action, squeeze balls and watch me cum. Made using body safe, phthalates-free material Thermoplastic Rubber TPR. Total length 6 inches, width 2.87 inches, insertable length 5 inches.