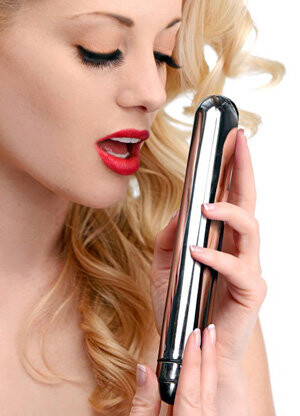 Are you a fan of the classic silver bullet but want something with a little more oomph? Well look no further, do I have the giant bullet for you! The Thunder Bullet from XR Brands is a XL ultra-powered silver bullet. It is sure to get you to your happy place in no time. Being that it's a larger bullet, you can use it internally as well. You can also use it with a penis sheath for added stimulation. The multi-speed vibrations are incredibly strong and you can feel it through the whole shaft. It is a wonderful update to the classic little bullet.
For more information, contact XR Brands:
Product Description:
This massive bullet delivers deep, rumbling vibration! Packing multi-speed buzzing capabilities for internal or external use, this sleek bullet was made for intense action. Experience the powerful vibration reverberating through the whole shaft! Use it on its own, or insert it in a penis sheath to create a customized vibrating dildo. The Thunder Bullet is waterproof, making it the perfect accessory for a steamy shower!