Tailz White Fluffy Bunny Tail Anal Plug
XR Brands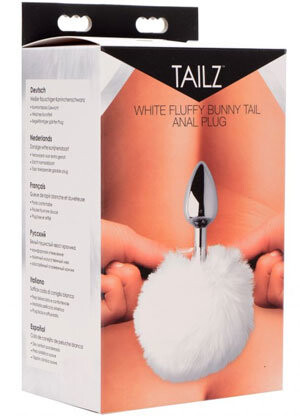 This is an adorable white fully bunny tail that is also an anal plug! The plug itself is not intimidating at all — it is small and cute. This metal plug is also weighted for added stimulation. Show your partner how cute you look and wiggle your butt with your new accessory. Get two and you each can play "dress up".
For more information, contact XR Brands:
Product Description:
This adorable white tail will turn you into a sensual and playful bunny! Weighted for comfort, the metal plug is smooth, tapered, and petite so that insertion is easy and enjoyable, even for beginners. Your partner will love how cute you look, but more than that, they will love knowing that your ass is plugged. Tease them until they are overcome with desire! This butt plug is perfect for preparing for anal sex. Use with any lubricant of your choosing and clean with mild soap and warm water.