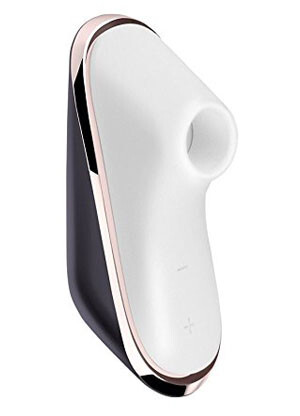 Forget being worried about being found out with your toys: the Satisfyer Pro Traveler is all about discretion. It comes packaged in its own black and rose gold magnetic case, which made it easy to pack into my travel bag. And the noise — or lack thereof! This diminutive toy sucks hard for how quiet it is, a tiny shocker in a pretty package. It's waterproof too, which was helpful while taking a fun, frisky bath in the hotel I was in. The range of settings helped me ramp up to an incredible climax that rivaled the work of even the best pussy eater. Remind me what they're for again?
Product Description:
This elegant slim fit design can seamlessly find its way into any bag. Whether you're a globetrotter or happy at home: the practical cap has a magnetic closure, making your pleasure pal a discreet and hygienic companion. 11 settings to take you to cloud 9.