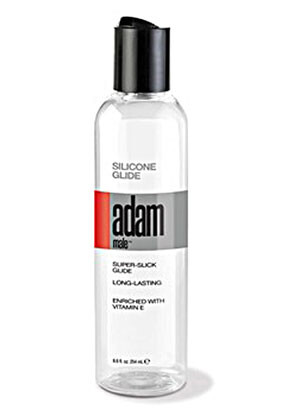 The Adam Male Silicone Glide by Adam & Eve is a silicone personal lubricant. It comes in clear, frosted bottle that doesn't scream "personal lubricant" whatsoever. What is does scream is "made for dudes," with its strong block lettering and straight lines. The lube itself has a nice thickness that makes pouring it from the plastic pop-cap less scary and far less messy than we were expecting. It has essentially no odor, which we were very grateful for. There is nothing worse than the chemically smell of an unscented lube. The lubrication remains reliable for a good, long time. You will likely need to wash this stuff off.
For more information, contact Adam & Eve:
Product Description:
AdamMale™ Silicone Glide is the perfect compliment to your bedroom activities. The smooth silky formula stays slick for hours, ensuring you can focus on the task at hand. Enriched with Vitamin E, it feels so good as it provides a non-sticky glide. It's odorless, vegan, paraben free, and proudly made right here in the U.S.A. Plus, it's safe to use with condoms and non-silicone sex toys.