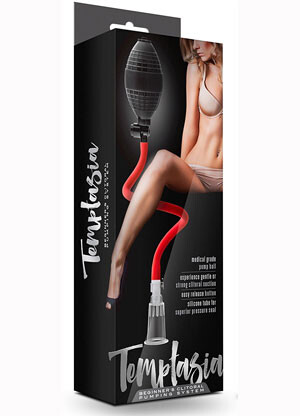 The Temptasia by Blush Novelties is a pump system designed to be used on smaller erotic spots. The box clearly shows the gun-like pump system with attached hose and cup options (some assembly required). The kit gives you three choices for cup sizes and is suitable for the clitoris and nipples. A silicone tube joins the trigger-pump to the cups. Pressure control is easy and the trigger release is fast. This toy is fun.
Product Description:
Just beginning to experiment with pumping or already familiar? The Temptasia Beginner Clitoral Pumping System is just the accessory for you. Used to increase sensation to your clitoris and nipples thereby enhancing pleasure. Place cylinder over your designed erogenous zone. Squeeze ball pump to create suction. Featuring an air release valve for easy removal. The cylinder can be detached leaving your clitoris or nipple suctioned to the cylinder. Buy 2 or more to suction nipples and clitoris. Enjoy the enhanced pleasure and the unique sensations of clit pumping and the thrill of nipple pumping.