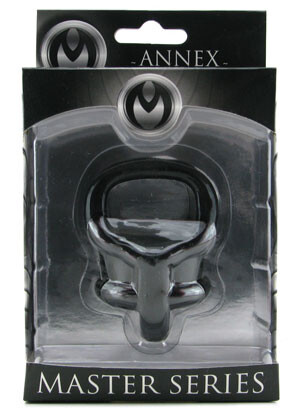 I'm always a fan of seeing what you are buying so having the product on display was a positive note. The packaging made sure that everything was visible. The printing on the back notes a "1.39 inch interior width" and has pictures demonstrating how to properly wear the enhancer.
At least for me, this cock ring offered quite a snug fit. We most certainly had to use some lube to get everything into place — I would highly recommend water-based. It did a great job restricting flow around the base and bound the balls firmly. Good luck trying to get all of that the first shot. The mixture of lube and a clear cock ring is tricky business. Removal was much easier on the other hand. The entire ring is elastic and really helps with getting free. If this is the style/shape you are looking for, the Annex did the job for me.
For more information, contact XR Brands:
Product Description:
Taking the classic cock ring several steps further, this soft, stretchy one-piece cage fits securely over the base of the penis and around the testicles, keeping the unit in question contained, firm and supported with balls separated.