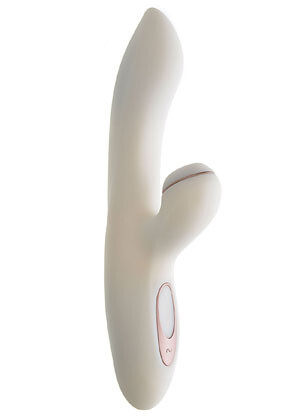 Who says a rabbit can't suck? The Satisfyer Pro G-Spot Rabbit sure does! Although not shaped like a rabbit, nor with rabbit ears, (the term "rabbit" is now synonymous with dual stimulating, internal/external pleasure devices), this comfortably shaped, silent silicone Satisfyer fills the vagina gently and thoroughly while the clit-sucking action takes place on the outside. Since the shape can nuzzle inside and stay put and the suction starts pumping the blood-engorged clit, basically all you need to do is press the buttons for speed. Once you've hit your sweet spot both inside and out, all you need to do is lay back and enjoy the ride. The G Spot Rabbit will do the driving.
Market Appeal
With all the heavy marketing that Satisfyer has done in mainstream, many consumers will already be familiar with the brand. Showcase the Satisfyer Pro G-Spot Rabbit alongside other rabbit vibes to showcase the unique features of this dual-stim toy.
Product Description:
If you want a rabbit that brings you to the brink of pleasure better and faster than any other, hop to it and snag this naughty bunny. From the pleasure experts at Satisfyer, the Satisfyer Pro G-Spot Rabbit is ready to thrill you thoroughly inside and out.

Instead of the traditional bunny-shaped clitoral stimulator, this rabbit features a smooth tip. Position your clitoris inside it, press and hold the lower white control button, and hang on! Because the Pro G-Spot Rabbit's stimulator will immediately surround and seduce your love bud with air pressure wave technology. It's not quite suction, but tiny thrumming puffs of air that are touch-free – and feel absolutely out of this world when concentrated on your most sensitive spot. Keep tapping the lower white control button to experiment with all 11 intensities. Tap the upper button to dial back the pleasure.