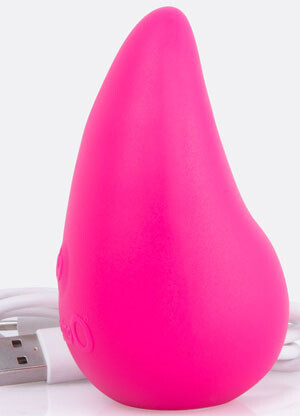 The Affordable Rechargeable Scoop fits nicely in the palm of one's hand for full-on vulva stimulation and when using it on a penis. The 20 rumbling functions of speed and variations leave nothing to the imagination because you know you'll get the job done every time you use this toy. The silicone casing makes for a smooth ride over her vulva, with or without that pesky pubic hair. This is a fun little toy to add to the toy collection!
For more information, contact Screaming O:
Product Description:
Get ready for a sensational moment of contact with the Affordable Rechargeable™ scoop™, a titillating and tingling vibrator powered by Screaming O's 20-FUNction Positive® motor, the most intense of its kind. The unique shape of the scoop™ is contoured to follow your every curve, so it touches more of your skin at once with its deep, rumbling vibration. Featuring a gently flexible True Silicone® body, the scoop™ can run for more than 60 minutes on a single charge of its safer Lithium Polymer rechargeable battery. With settings that range from constant buzzing to rhythmic pulsing, and from mild to wild, the scoop™ offers a versatile range of sensations that will heighten your intimate encounters and push your pleasure over the edge.