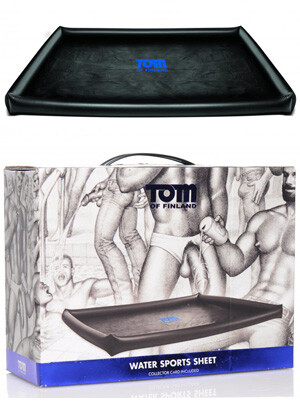 Sure, it's thought of as the "men's sport" of water sports but who says a girl can't have fun on this amazing vinyl wonder? No more soaking the sheets when female ejaculating, no more messy bedclothes when it's that time of the month and oh, no more wet spots when you can cover the whole bed (or any other surface) with something as versatile as this. This large vinyl sheet with simple to inflate sides, is perfect for getting wet and nasty whether you're using full-body massage gel, almond oil, or good ol' golden showers to get you off. Easy to clean and easy to store, this beauty is a must, no matter what your kink or gender!
Market Appeal
Stock this in different areas of the store — not just the gay men's section or the kink section. It's the perfect conversation starter for your customers.
For more information, contact XR Brands:
Product Description:
Use this inflatable sheet on your bed or the floor as an arena for your dirtiest activities! Whether you are into wet and messy play, water sports, or just plan on having a lot of fun, the blow-up edge border will keep all fluids inside the spill-proof sheet. The lightweight and durable design makes it convenient to use, while the vinyl material is easy to clean and maintain. Bring your fantasies to life like never before when you can get as filthy as you want!