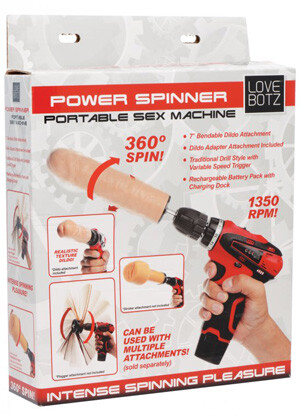 I love when my sex toys have multiple uses. It's great when they are not only for pleasure but have some practical use as well. The Power Spinner is sure to send you in tailspin of orgasms. It is a traditional drill style with a variable speed trigger. It's a legit drill. You can screw in screws and then screw yourself with it.
It comes with a seven-inch bendable dildo attachment. Other attachments sold separately include a flogger and a stroker. It comes with a rechargeable battery pack and charging dock. The Power Spinner spins in 360 degrees at 1,350 RPM. This is a super intense toy for the adventurous person looking for something new to try. I do suggest keeping your pleasure attachments away from the actual tools. But whatever you are working on, always use lube.
Market Appeal
This will not be your everyday sale. If only everyone coming in was in the mood for a drill with a dildo on it. But, it's a really fun item and will sell to the right person looking for this. This is a great present for your sex toy-loving friend who has every other kind of sex toy. Perhaps have one out for display so people can see how fun it really is.
For more information, contact XR Brands:
Product Description:
Drill into that orifice with a hand-held sex machine for a unique pleasure experience! We are giving you everything you need for vaginal or anal penetration by a circulating dildo. This power tool delivers intense sensation, with a speed range of 0-1350 RPM and over 16 torque settings. Your trigger-pull controls the speed so you can play with slow swirls or rapid rotations! The dual-speed switch provides even more power options, while the polarity button dictates the direction of rotation. The included dildo is thick and textured for immense satisfaction, but it also bends dramatically into your ideal shape! Attach the dildo by twisting it onto the metal adapter rod, then inserting the rod into the keyless chuck of the drill. If you have another Vacuum-Lock or Vacuum-Grip dildo that you prefer, it can be attached with the dildo adapter. Get creative and connect a stroker or flogger attachment. Playing in the dark? A high intensity LED light on the front of the drill ensures that you have a clear visual of what you are working on. The battery pack is rechargeable so that you are always ready for a quick fix!