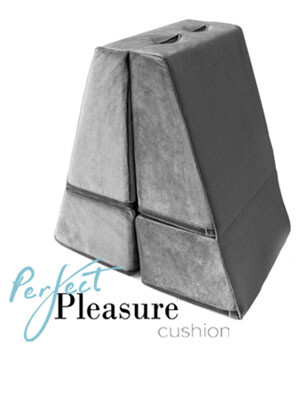 Oh my gosh! Before using the Perfect Pleasure Cushion from The It Collection, I had no idea my hubby could even bend like that! We both took a weekend off to really give it a go, and we were impressed.
The cushion comes with an easy-to-read guide showcasing all the positions and possibilities. Our favorite was "The Kitty." You simply insert your favorite vibrator, preferably a body wand, into one side and hold onto the edges while your partner makes love to you from behind. Whether you're flying solo or getting it on with a buddy, there's a little something for everyone in this guide. I'd definitely give this bad boy a shot!
Product Description:
The Perfect Pleasure™ cushion is the first and only mount that adjusts to the needs of its user, eliminating the need to buy multiple cushions for different positions. The Perfect Pleasure cushion accommodates all kinds of sex toys and a wide range of positions. It's modular, and multi-slot design allows it to be folded into new shapes, making it taller, shorter, thinner, or wider as needed for precise use — all while being completely hands-free. It's the ultimate sexual fulfillment aid for individuals and couples who desire total control over their sexual experience.