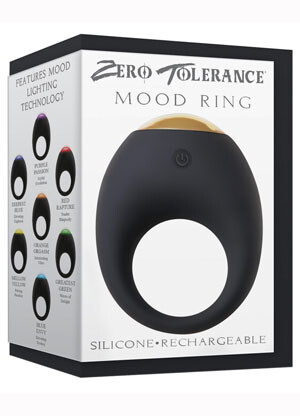 A cock ring with light settings — awesome! The packaging is a hard cardboard fold out showcasing neatly all the functions of this ring. Key notes are the 2.3" diameter, silicone and usage time of up to 100 minutes. There is also a guide to which colors represent which "mood."
The inside guide I mentioned is a color representation of the vibration setting you are currently using. Red being "Tender Rhapsody" and the blue being "Elevating Ecstasy." The ring itself functions amazingly. It's not too bulky and has a good stretch to fit snugly. If you need a cock ring, this one will work wonders. And, if you want to multi-color strobe a dark room … Jackpot!
Product Description:
Powerful vibrations with 7 unique speeds and functions stimulate both lovers with gentle or intense sensations, and the elegant, chic design fits most comfortably. Light up your bath or shower with a splash of LED color, as this toy is completely submersible, and let the premium, luxurious silicone create longer lasting erotic memories. Clean up quick with toy cleaner and a warm water rinse.
Features elegant cock ring with LED light. Multi-colored LED light adds ambiance to play time. Excellent for play in the dark. Made from luxurious silicone and ABS plastic. Powerful motor with 7 speeds and functions. One size fits most. Latex free and phthalate free. Completely waterproof and submersible. Fully rechargeable, USB cable included.