Hello Sexy Happy Birthday Vanilla Cupcake Flavored Lube
Shibari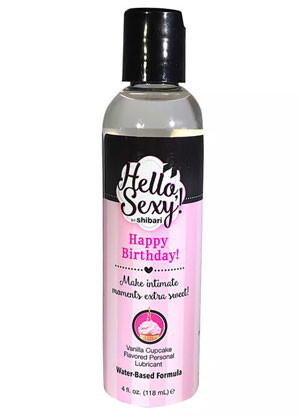 Edible lubes have come a long way since I last remember. The "Happy Birthday" Vanilla cupcake actually tastes as close to a vanilla cupcake as a lube can! The bottle itself resembles a pink and black cupcake motif playing into the theme. The lube is water-based, being edible and all, so it is usable with a majority of silicone-based toys. We loved the slick feel on our toys, and the long-lasting taste. We will definitely use this lube again.
Product Description:
Hello Sexy! Happy Birthday Vanilla Cupcake Flavored Personal Lubricant is a water-based personal lubricant, for penile and/or vaginal application, intended to lubricate and moisturize, to enhance the ease and comfort of intimate sexual activity and supplement the body's natural lubrication.