Pleasure Cherry Kegel Balls
Shibari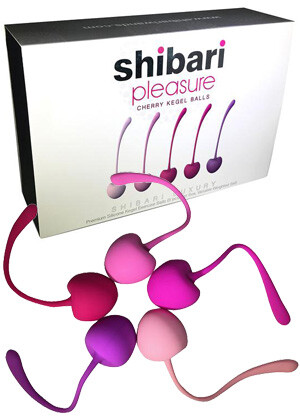 This kit is delightful and if you are looking for a good one to get for kegel exercises this is a great investment. I am all about being healthy and exercise for my body, which includes all parts of my body. Got to keep those muscles tight.
I absolutely love the fact that all the kegel balls in the set are shaped as cherries. I want to use them more because of that. I am a sucker for a cute sex toy.
All of the cherries come in different weights for you to play around with and find your perfect one. Put a few in there and make it a party. Just don't leave them in the kitchen!
Product Description:
Premium silicone kegel excercise balls (5 pcs. per box, variable-weighted set). Exercise & tone pelvic floor muscles. Heighten sexual pleasure. Waterproof, latex free, & phthalate free.