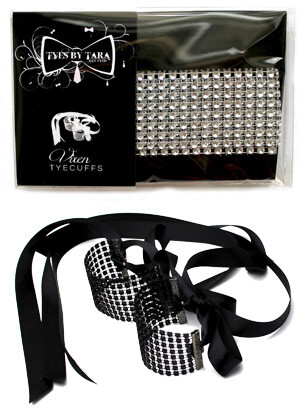 These are some of the most beautiful cuffs I have received. I just love that they don't look like your normal run-of-the-mill restraints. These are made for a lady. A lady with a passion for bondage and being tied up.
You can use these to restrain your wrists or ankles to each other and/or to your bed frame or whatever you would like to be tied to. They are not only great for the bedroom, but are also a great accessory for going out. This item is sure to spruce up any outfit and give it that naughty touch. I plan to wear mine all the time.
All bondage levels will enjoy these Vixen cuffs.
Product Description:
These sparkly rhinestone mesh handcuffs with satin ribbon tyes from the Vixen Collection are so versatile you will not get bored! Wear them around wrists or ankles. They are a perfect sensual treat for yourself or a sweet surprise for someone you love. Satin ribbon tyes Wear around your hands or ankles