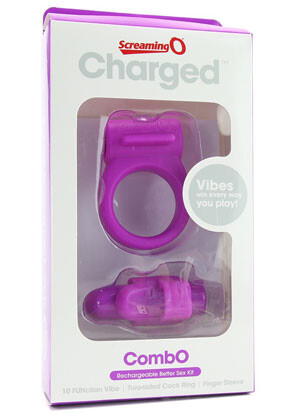 I have been super impressed with all the new stuff from Screaming O this year. They have come a long way since they started with just cock rings to a whole bunch of awesome stuff in their lineup now. This Charged Combo kit is going to be such an easy seller. First you get their awesome rechargeable bullet that you can use all over your body. Along with that, you get a silicone finger sleeve and a cock ring to put the bullet into. This kit is all you need for a fun night with your partner.
For more information, contact Screaming O:
Product Description:
Enjoy all-in-one fun with Charged CombO Kit #1, a complete better sex kit powered by 10 FUNctions of deep rumbling Vooom® vibration. This convenient collection includes a stretchy two-sided cock ring and comfortable fingertip sleeve – both made of body-safe True Silicone® – for the widest variety at a value price.
Included in each Charged CombO kit is a rechargeable 10-FUNction bullet vibe powered by Vooom® technology, a low-pitch vibration that rumbles rather than buzzes for a deeper sensation, and two easy-to-use attachments to transform the experience. Slip the ABS plastic bullet into the stretchy two-sided cock ring to enjoy vibrating enhancement with a partner, or insert the bullet into the finger sleeve to transform your fingertip into a powerful sex toy. You can even enjoy the bullet on its own for rumbling massage everywhere it touches – including inside bullet-compatible sex toys, like harnesses or dildos! However you choose to use it, Charged CombO Kit #1 vibrates for more than 60 minutes on a single charge, is 100% waterproof, and comes with a USB charge cable so you can power it up right out of the box. Mix, match, and explore all the ways you love to play and enjoy high-quality, body-safe sex toys at an unbeatable price.