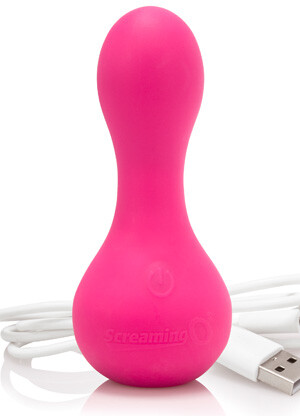 The Affordable Rechargeable moove Remote is a sexy, rounded, silicone dumbbell shape with a 20-function vibrating and pulsating flexible head at one end and a larger rounded bulb at the other. Sure, this is a fantastic, remote-controlled vaginal vibe but it can also double as that elusive, remote-controlled butt plug that everyone is begging for. While the base isn't exactly flanged enough to hold in place as a vibrating butt plug, with carefully placed undies and strong sphincter muscles, the black moove can scramble in where the sun don't shine. Wait a minute while I grab my lube…
For more information, contact Screaming O:
Product Description:
Enjoy rumbling massage that follows your every curve with the Affordable Rechargeable moove, a soft True Silicone® massager with a bulbous head and bendable neck for firm, yet flexible pleasure. Powered by deep, rumbling Vooom® vibration, moove's rounded head can swirl, zigzag, and stretch side-to-side and follow your lead with ease thanks to a small spring inside. This perfect amount of bendability ensures comfortable vibration pressure everywhere moove massages while expertly dispersing rumbly vibes from every angle. With its motor positioned within its head, moove delivers Screaming O's most powerful vibration technology to date and emits 20 powerful FUNCtions of the deepest rumble available. moove vibrates for more than 60 minutes on a single charge (USB cord included!) and is 100% waterproof for ultimate versatility.