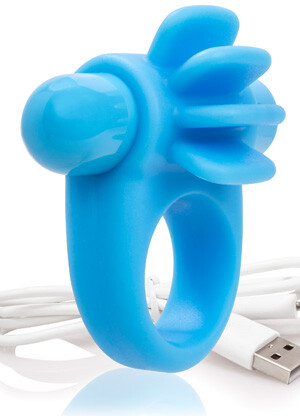 Well, I have to give credit to Screaming-O for keeping the product design interesting. The Skooch adds "extensions" that resemble mini tongues to the base of this cock ring making it a combo deal. The packaging is neat and orderly while giving you a perfect view of the device through a plastic window. The entire mold is silicone so it is waterproof and has a nice stretch too it.
The ring diameter was perfectly snug. The vibrations themselves worked really well. There are four extensions that transfer the vibrations perfectly. The bullet provides stimulating pulses through the 10 modes. Find a couple modes you like, just to try get the full experience. The bullet is rechargeable via USB. In the end, we liked it. Not complicated too use and has enough functions to keep us interested!
For more information, contact Screaming O:
Product Description:
Enjoy textured stimulation with Charged Skooch™, a rechargeable vibrating cock ring equipped with four firm-yet-flexible fin-like extensions that tremble with deep, rumbling Vooom® vibration. Sweep, rub or grind your way to deeper stimulation and enjoy 10 powerful FUNctions that flow through Charged Skooch's smooth silicone fins for the most satisfying sensation. This unique vibrating cock ring also features a wider band that fits around the penis or penis and testicles (your choice!) with a more comfortable snug and secure fit. Charged Skooch is made of lab-tested, body-safe True Silicone®, is completely waterproof, and comes with a limited 2-year warranty to assure ultimate customer satisfaction.