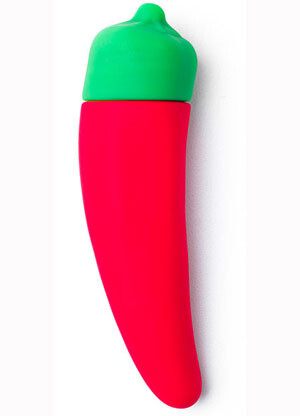 Millennials will go nuts for this Emoji-inspired vibe — and rightfully so, it's adorable!
Beyond aesthetics, the Chili Pepper also provides excellent stimulation. It features a slightly malleable texture that feels lovely against my lady parts. Although it operates on button-cell batteries, the Chili Pepper offers powerful vibrations at multiple settings. To operate the Chili Pepper, adorably enough, you press its green stem.
In addition to the multiple O's that the Chili Pepper vibe will give you, this cutie is also highly Instagrammable.
Product Description:
Featuring 10 vibration settings, the Emojibator is great for bachelorette parties, gag gifts, wedding present or that prudish friend of yours who just won't pony-up and get one for herself!
It is discretly sized to ensure you can take your new pal anywhere without worry and it supplied comes with 4 alkaline batteries so it is fun right our of the box.