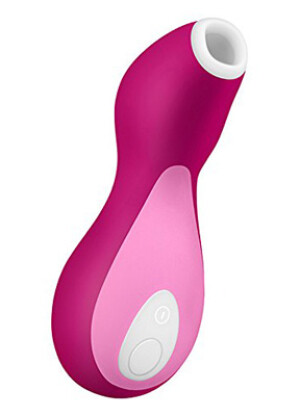 Having heard that the Satisfyer had recently received the 2017 "Good Design Selection" award for its Pro Penguin, I was excited at the opportunity to try it out for myself. Upon unboxing it, I was pleased with what I saw. Its rounded shape resembles an adorable penguin with the tip of its head topped with a white silicone nozzle that's wide enough to comfortably engulf a clitoris of any size.
This toy is beautifully designed to be discreet and travel-friendly, and regardless of its petite size, the Pro Penguin packs a punch. Unlike a typical vibrator however, this powerhouse uses suction to take you through orgasm after orgasm after orgasm!
The ergonomic design of the Pro Penguin makes it easy to hold and to control. It's made with ABS plastic and features a smooth silicone cover that feels great in your hands. It's also incredibly easy to control the Pro Penguin, its control buttons can be found on the front of the toy. To turn it on, press the smaller button on the control for two seconds and then you can cycle through the intensities with the second button. The Pro Penguin features 11 suction functions to choose from.
The company calls it "pressure wave" stimulation and it feels incredible! Once you feel it, there's no denying its power t get you off in an instant. The centralized suctioning can be focused on your clit and boom! The orgasms will come non-stop. I've used the Pro Penguin when I want a quickie and I've also laid in bed with it for hours. This toy is a must-have!
Thank you Satisfyer for creating this unique toy that effortlessly combines its thoughtful design and innovative pressure wave technology for a truly unique experience. I love that its discreet look makes it easy to take it everywhere with me.
Cleaning the Pro Penguin was a breeze. Satisfyer made the white nozzle removable so that cleaning it is effortless and very thorough.
Product Description:
The handy design of the Satisfyer Pro Penguin especially impresses newcomers to sensual solo play with its cute shape and simple use. The curved head on this pressure wave vibrator creates never-experienced-before climaxes with 11 different programs. The rechargeable batteries make it ready for any adventure.