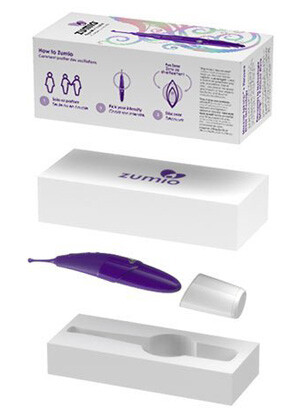 This is not your typical looking vibrator. You could leave it on your sink and no one would know! However, don't mix it up with your electric toothbrush, that could get interesting.
The toy's tiny tip packs quite the punch, and it was built for speed, bringing you to an orgasm fast and powerfully. With the small tip, you can get precise stimulation right where you want it. The look of it won't intimidate anyone who might not be the usual toy person. It's great for solo or for partner play.
Zumio is rechargeable and comes with a charging stand, and its fun and unique design is perfect for someone who wants something out of the box.
Product Description:
Zumio offers a 60-second quickie, mind-blowing multiple orgasms or hours of delicious exploration. What's your pleasure?

Searching for a way to achieve deep stimulation and precise control, Zumio designers took the circular fingertip motion, creating their revolutionary Spiro TipTM Technology. The result is satisfying, whirling pulses with up to 8 levels that can be concentrated on smaller areas. Zumio's oscillation penetrates with a massaging effect that reaches deeper while being gentle on surface nerve-endings. The low vibration handle also won't irritate or numb the hand during use. Alone or with a partner, this unique clitoral stimulator can provide pleasure fast or slow, tickling her pleasure zone like nothing else.

The idea for Zumio was born out of frustration when a very busy single mother with young children wanted a way to achieve orgasm in under a minute. She wanted deep stimulation and precise control, but all the toys she tried—mostly designed by men—were limited to the clitoral button, used irritating vibration, or were too big to pinpoint specific sensory areas.

Female designers solved the problem by taking the circular fingertip motion concept to a new level. They figured out how to shrink the tip size and generate satisfying, whirling pulses that could be concentrated on smaller areas. After many prototypes and three years of testing, Zumio was introduced. Pleasure has never been the same.

For External Use Only.