Ringmaster Vibrating Clit Licker Dual Support Ring
Love Supply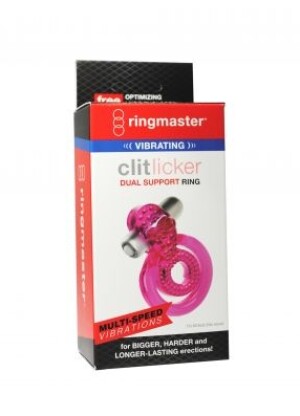 This accessory is made completely out of a stretchable jelly allowing for a "one size fits most" approach. Two rings attached at the base of a textured tongue mold. Directly behind the tongue that is jetting out from a jelly base is a sleeve for the three-speed bullet. The "Clit Licker" did an amazing job of transferring the rumble of the vibrator to the tip. It worked really well when we could grind a little harder. The rings themselves offered and snug fit without ever becoming a discomfort. This product also comes with a small package of water-based lube to assist with any of your troubles. We will use this one again just for the vibrator.
Market Appeal
I am always happy to report when a product has batteries included. This is always considered good practice in my opinion. The packaging gives a clear picture of the product inside and has a diagram on the back to show how to properly wear the ring. 
Product Description:
A soft and comfortable ring that provides incredible support for him and intense vibration and tongue flicking for her with a strong removable bullet.