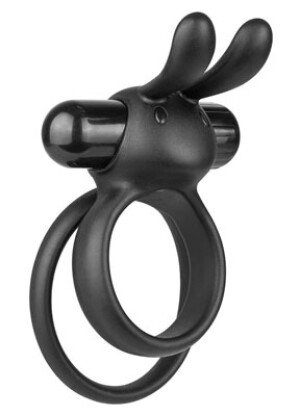 The Ohare XL by ScreamingO is a mix of a lot of popular toys. It is a cock ring, but also has a loop for your balls too. On top is a vibrating bullet with a set of rabbit ears attached.
Despite being worn by the one with the penis, this is definitely a toy for a woman. The ears are reminiscent of, as cute name suggests, a rabbit. They do a wonderful job of enhancing the stimulation being received. The cock ring is a roomy size, for those on the thicker side.
This is a simple, yet robust toy.
For more information, contact Screaming O:
Product Description:
The Ohare XL is a slightly larger version of the best-selling vibrating couples ring made famous for its clever and familiar shape! This unique vibrating ring turns him into your favorite rabbit vibe with larger comfort-fit rings and a super-powered 4-function motor enhanced with soft, flexible rabbit ears! Made of lab-tested body-safe silicone, these ears transfer vibration all the way to their tips for a pleasant tickling sensation that helps heighten arousal and make orgasms come easier during intercourse.
The Ohare XL is most unique for its double-ring design, which helps keep the rabbit in place; one ring stretches around the shaft and the second stretches around the shaft and testicles, giving him an effective isolation fit that many users report enhances erections and intensifies orgasms. The Ohare XL excites and delights with an iconic shape she loves and comfortable erection enhancement he craves!