Dominant Submissive Collection Spiked Chain Whip
Nasstoys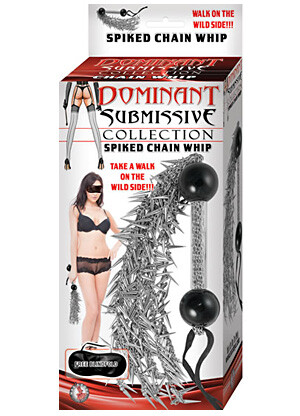 I'm no BDSM expert, or even a novice, but this whip was the perfect starter toy to make my fantasies a reality.
The snap is crisp, and the pain is a sharp (and pleasurable!) crack on the back, butt or even your boobies! It's definitely not scarier than it looks, so don't let yourself be frightened off. The packaging is clean, and the product is displayed in all its glory on the front.
Players of all levels will be able to enjoy this bad boy in the bedroom — or anywhere else you're trying to get kinky! Oh, and it comes with a free blindfold that feels smooth and satin-y on the skin. Two playthings for the price of one … awesome!
For more information, contact Nasstoys:
Product Description:
DOMINANT
SUBMISSIVE
COLLECTION
SPIKED
CHAIN WHIP
2758
• Take a walk
on the wild side
• Flexible spiked
chains can be
used for delicate
tickles or hard
spank
• Waterproof
• Phthalates free
• Material:
Chains-Iron,
Pendants-ABS,
Pipe-Acrylic,
Balls-Silicone
• Size:
Whip length-16",
Handle
length-7.25"