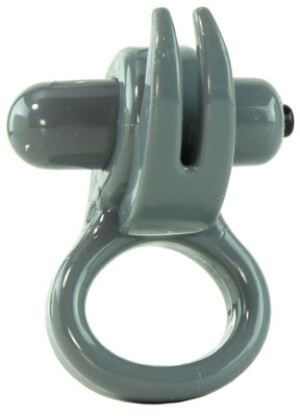 For starters, the package comes with extra batteries. That is a win right there.
This cock ring has a lot going for it. The ring itself, being made from SEBS body-safe material, can stretch to quite a formidable size, truly making it one size fits most. It sits quite snug at the base and the ring is thick enough to be flush against the skin as it is also used for "erection enhancement" as the box says.
The one button bullet has a gasket letting you take this ring with you into a more saturated setting. The horns are another stand out point. Strong vibrations transfer all the way to the tips. The 'orns are very easy to move into the perfect spot. They did a fantastic job of staying there as well. Clean-up was a cinch with some warm water and mild soap. We will be using this one for a while.
For more information, contact Screaming O:
Product Description:
The 'Orny vibe ring gets couples hot and heavy fast with a unique shape specially designed for a dramatically different orgasm. The 'Orny is powered by the famous Vooom™ Bullet, a new low-pitch mini vibe that vibrates with a deep, rumbling sensation unlike anything you've ever felt. This one-size-fits-most cock ring is equipped with two soft, flexible "horns" that cradle the clitoris and tremble and flutter against every erogenous zone they touch. With the push of a button, the 'Orny sends powerful vibration to their tips all while providing an enhanced experience for him. Simply stretch the ring around the penis or both the penis and testicles with the vibrating "horns" positioned on top to assure the most effective experience.
Made of lab-tested, body-safe SEBS material, the 'Orny matches powerful erection enhancement with extrasensory stimulation specially designed to satisfy every carnal craving!