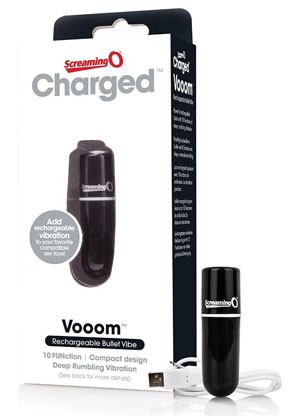 Who doesn't love a high-quality bullet? Well, you always get exceptional quality with anything from Screaming O and this item is no different. This is not your typical bullet. It is rechargeable with 10 distinct functions to play with … but wait, there's more! It comes with a remote control ring that lets you take it anywhere. Not only that, but any toy that comes with a regular bullet, swap that out for this one and you have just taken your toy to a whole new level. Turn anything into a remote-controlled toy. The possibilities are endless!
For more information, contact Screaming O:
Product Description:
Enjoy powerful portable vibration with Charged Vooom, a unique 100% waterproof bullet vibe equipped with a 10-function motor that hums at a frequency unlike anything you've ever felt. This deep, rumbling vibration penetrates beneath the skin's surface for a dramatically different sensation and incredibly satisfying experience. At its highest speed, Charged Vooom vibrates for more than 60 minutes and recharges easily with a stable plug-in connection. Charged Vooom also comes equipped with a 2-year limited warranty and is made of lab-tested body-safe ABS plastic, so you can enjoy penetrating pleasure with confidence. Enjoy Charged Vooom on its own or use it to add powerful rumbling vibration to your favorite compatible intimate accessories.