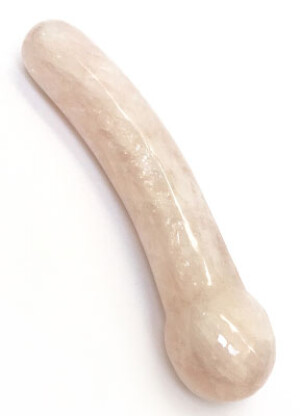 This toy delights me in every way. First off it is so beautiful I just want to put in on my coffee table for everyone to see.
Why Rose quartz you ask? Rose quartz is a stone of the heart, a crystal of unconditional love. It is a very female-empowering type of crystal. What better to use for an internal stimulator. Using this item will help open the heart chakra and to be in tune with oneself. You'll also get a lovely orgasm at the same time. With the combination of your sexual energy and the energy of the crystal, expect your chakras to open up!
Market Appeal
This beauty needs to be out so people can see it. Keep it in your glass case with all your other like items. This will appeal to your glass customers who like that hard feeling and slickness you get.
It is a really great item to play around with temperature play, it holds body heat as well. Made of 100 percent rose quartz, this toy is for anyone who wants a more natural toy. It's great for an all-over body massage, as well. This item is going on my mantel.
Product Description:
Rose Quartz is a stone of the heart, a Crystal of Unconditional Love. It carries a soft feminine energy of compassion and peace, tenderness and healing, nourishment and comfort. It speaks directly to the Heart Chakra, dissolving emotional wounds, fears and resentments, and circulates a Divine loving energy throughout the entire aura. Reawakening the heart to its own innate love, it provides a deep sense of personal fulfillment and contentment, allowing one the capacity to truly give and receive love from others.