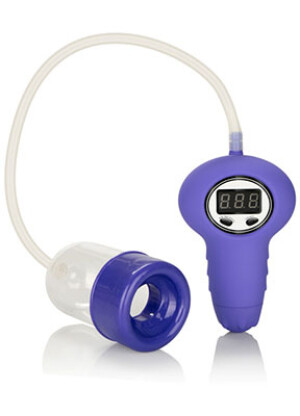 Making a comeback is the good old-fashioned clitoral pump. It's nice to see them being updated. This one in particular is a quite nice one, designed for a woman by a woman. Who doesn't want a bigger clit? I know I do; it just depends on my mood. Am I feeling showy or shy? When I am feeling showy I reach for my clit pump. Not only does it feel wonderful on the clit but it's also fun to use on any intimate area you want to play with. It has a powerful automatic suction and a really cool LED display. It's great for increasing sensitivity to the clitoral area! My husband thinks this is the coolest new toy ever.
For more information, contact CalExotics:
Product Description:
A sweetly simple, fully automatic version of a proven female pleasure tool, CalExotic's Auto Intimate Pump features a user friendly body-conscious design created by a women, for women.
Surrounding the nerve-ending rich clitoral area in a soft PVC wrapped cup, the pump provides gentle, gradual suction easily controlled and quickly released. Subtly swelling the clitoris by increasing blood flow, the Intimate Pump's upward pressure naturally awakens pleasure receptors, increasing sensation in the entire vaginal area.
The sturdy cup is sleek and petite, fitting easily in hand. Once in place, a silky surrounding sleeve ensures an airtight seal plus ultimate comfort during use. Activate suction with the Pump's remote one-touch on/off switch and release with a dedicated button to the side.