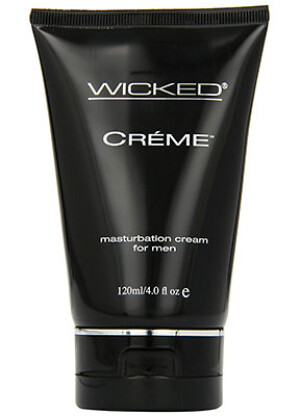 Creme Masturbation cream for men by Wicked Sensuals offers a new variant to an age-old practice. Instead of being a slippery mess at the start, this self-pleasure application begins as a thick and opaque paste. After using it for a short while, the consistency then breaks down into a very slick and nearly invisible lube. Clean up is really easy with warm water and doesn't leave a slick residue like some silicone-based lubes. The ingredients do boast about the Vitamin E and Coconut oil to make it a bit higher end and designer-esque.
Product Description:
The Wicked Sensual Care Collection is a "completely vegan, cruelty-free and PETA certified" line of personal lubricants and enhancers developed exclusively for the company by skincare industry veteran Carrie Smith.