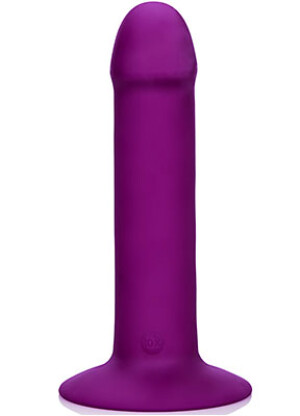 If you like your toys with a little more flare and science… then you will enjoy this item from CalExotics.
First, it has a 10-function motor that is incredibly strong, but on top of that… you have two touch sensors in the shaft. With that, it will respond to your body's movements and the deeper you stroke the stronger the power. The sensation is pretty fantastic and is sure to get your to your happy place. It is rechargeable and waterproof for all sorts of slippery fun.
For more information, contact CalExotics:
Product Description:
Shaped into ultra smooth swells of silky, touch-sensitive bliss, this Luxe creation was designed to deliver empowered hands-free intensity control in hand or favorite strap-on.
Ten inspired modes of steady, pulsating and rhythmically escalating vibration flow through the subtle shaft, reaching tip to base with reliable ease. Once activated with a single push button, two separate touch sensors embedded under velvety silicone register depth. Past each sensor, the intensity of the chosen vibe mode increases from a tickly hum to a toe-curling throb- switch up the rhythm with a touch of the power button.