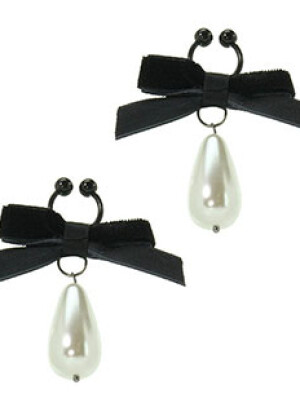 Feeling glum because you don't have pierced nipples but want to dress them up for a fancy occasion? No need to worry anymore with these beautiful non-piercing nipple rings. Now get the look without the pain and permanence. These vintage-inspired rings add class to any pair of nipples. Black bows made of velvet and a dangling glass pearl make my nipples look ready for any special event. My partner found them irresistible and so will yours. Who doesn't like a dressed up nipple.
Product Description:
The art of seduction starts here with these luxuriously tempting niptyes. Handcrafted soft velvet tyes, Creamy teardrop glass pearl accents, Black, flexible non-piercing nipple rings.