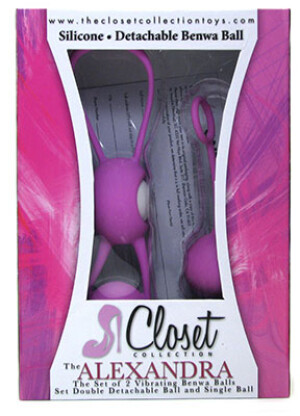 If you are trying to keep it tight, the Closet Collection's The Alexandra Kegel Balls are for you. I enjoyed these kegel balls because they were easy to insert and take out. Use the Alexandra Kegel Balls alone for increased muscle strength or with the soft silicone sleeve to enhance your orgasm. They are perfect alone or for couple's play. Use these balls alone as an exerciser or during intercourse to stimulate him and increase natural vaginal lubrication. The packaging is great for both the retail store or home parties.
Product Description:
A versatile set of silicone encased, perfectly weighted Ben Wa balls from the Closet Collection, this duo presents an undeniably pleasurable, extremely effective way to build up strong pelvic floor muscles. The weighted balls, with their natural, body-conforming shape, help naturally exercise the muscles responsible for sexual function, in turn keeping the vaginal walls elastic, snug and responsive to stimulation and pleasure.
There are two supple Balls to explore, a double set and a solo ball. The double combines a smooth, temperature sensitive silicone girdle with two jiggly weighted plastic balls that can be worn simultaneously within the girdle, or one at a time, depending on your level of kegel experience. Mix and match the beads to achieve the perfect weight, they slip easily in and out of the supple silicone. Naturally pinpointing the muscles needed to create a stronger pelvic floor, you'll need to contract these muscles to keep the Alexandra in place. The solo ball is completely self contained in the same velvety silicone, it offers beginners a great intro to this type of toy, while also working very well for women seeking simple pleasure.