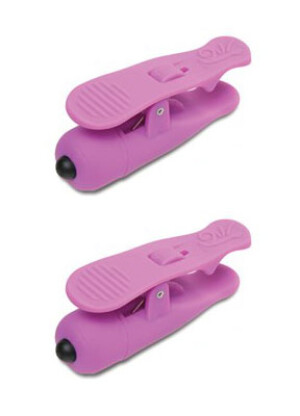 These clamps are awesome! They are very high quality and adjustable. The seven different vibrating functions are sure to do the job. My partner and I had a lot of fun with these clamps. The sensation on my nipples was very intense and I enjoyed every bit of it. Every time he increased the pressure or tapped the clamps with his finger it made me more aroused. These are one of the best nipples clamps I've tried thus far; they're a must-have for the toy box. Batteries are included with this wonderful gem, but you might want to buy some extras because I'm sure this will become a regular in your arsenal! I have larger nipples and often times the "one size fits most" still don't quite cut it for me. These fit wonderfully and can be adjusted to various size nipples.
For more information, contact Adam & Eve:
Product Description:
Specially designed with your comfort in mind, these vibrating nipple clamps feature several improvements compared to older models. First, an adjustable tension bar lets you increase or decrease the pressure on your nipples to fit your comfort and experience level. Second, the clamps are curved on the inside instead of being straight. This curve lets the clamps fit snugly around your nipple for a much more comfortable fit. And the nipple clamps are spring loaded to keep them securely in place no matter how much you move or wiggle during sex.