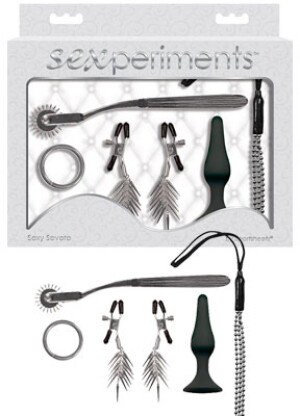 A side of pain with my pleasure! Sexperiments Sexy Severe by Sportsheets gave my partner and I hours of pain and pleasure. The nipple clamps are downright sexy. The clamps are tipped with black removable rubber, that allow for a little or more pain. The ends of the clamps are adorned with spikes that dangle, my partner enjoyed tugging on them during playtime and I didn't exactly object to it. Also in this kinkster kit is a four-inch high-grade silicone plug called "The Bishop Plug." It is definitely a perfect size for a little anal pleasure, but not enough to scare away any beginners. Its graduated size enables easier insertion. The "Attention Getter" (mini beaded whip) and Wartenberg wheel allow a wide range of sensory play. My partner decided to start of sensual by dragging the cold metal beads along my skin before following through with a stinging strike.
Market Appeal
Sexperiments Sexy Severe by Sportsheets comes packaged in an amazing framed window box that allows the buyer to see each product so they know exactly what they are getting. The kit's insertable toy is made of high quality silicone and the metal is nickel-free. The length of the plug is 4", 3.5" of which is insertable. The nipple claps are adjustable with just a simple twist of the knob, allowing it to work with various nipple sizes. This Sportsheets kit is perfect for any interested or experienced in the kink scene.
For more information, contact Sportsheets:
Product Description:
Amazing assortment for sensation play. Entry level butt plug with flared base, Wartenberg wheel for stimulation anywhere, nipple clamps with spiked tassels, Metal Cock ring, Chain Ball metal beaded whip, heat it up or chill it out for different erotic sensations.
Includes:
Each "Sexy Severe" Sexperiments kit contains: 1- 4? butt plug, 1 Metal Cock Ring, 1 Wartenberg Wheel, 1 pair of Nipple Clips with Crystals, 1 Chain Ball metal whip.
Ingredients:
55% nickel free metal, 32% silicone, 6% PVC, 4% ABS plastic, 3% polyester