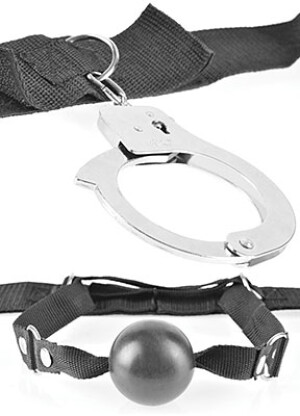 Boy oh boy what fun! This item is a must-have if you're into BDSM or looking for a kinky-good, fun time. The great part about this system is that it's so easy to set up. I wrapped the nylon strap around my queen sized bed, strapped my submissive in the handcuffs, put the included ball gag in her mouth, and let the seductive torture begin!
For more information, contact Pipedream Products:
Product Description:
Turn your ordinary bed into an extraordinary night of fun with the Fantasy Bed Restraint System! This easy-to-install bondage strap is all you need to enjoy a night of fetish and fun in your own bedroom. Experience the thrill of bondage and take turns role-playing - one minute you're in control, the next you're at the mercy of your lover!
The durable nylon strap is completely adjustable to fit around any sizes mattress. Simply place the strap over your mattress, then feed it between your mattress and box spring before securing it using the metal D-rings. This versatile restraint system can even be strapped around a headboard for endless positions and possibilities for fun.