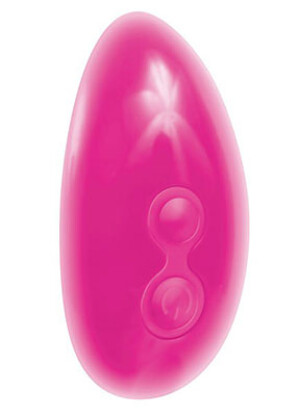 This thing is a beauty! You know the saying, "Big things come in small packages?" Well that definitely rings true for this gorgeous plaything. You can have some fun and use it as a reward or punishment for your partner when you want to spice things up a bit. My partner was mesmerized with me and this egg by the end of the day when I made her wear it to dinner and a movie. I was in full control (literally as I had the wireless remote) and she loved it! The egg is small enough to wrap your entire hand around and is also waterproof but don't go immersing it in water. Shower play works well with it. It's latex and phthalate free and comes with all the batteries needed to get the party started, what more can you ask for?
For more information, contact Adam & Eve:
Product Description:
Take kinky couples' fun to a whole new level! With Eve's Remote Control Egg, you can feel and control the buzz wirelessly. Tease your hot spots with the egg's vibrations and silky-smooth coated surface. The handheld remote lets you switch modes easily for maximum fun.
Or maybe you like your play a little wilder? Slip this egg into your panties or inside and surrender the remote control to your lover. It's up to you two what you do next. Adam & Eve customers have written in about wearing their vibrating eggs during blindfolded foreplay, enjoying the buzz while doing chores around the house, and even firing up the most powerful vibrations while out at parties!
The egg is waterproof, so you can even wear it into the tub or shower. But leave the remote out of the spray; it isn't waterproof. Your remote and egg come with a free batteries good for hours and hours of wireless use. To put the 23A battery into the remote, find the groove on the remote's back. Use your fingertip to press down and pop the flap open. Put in the battery and push the flap back on. To replace egg batteries, twist open the egg at the center. Put in batteries and twist the egg firmly closed before use.