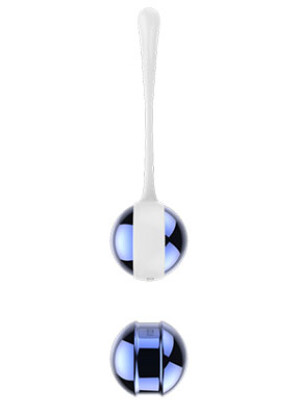 Beautiful. Beautiful. Beautiful. Yany is yet another piece by Nalone that has been created of superior quality and does not miss the mark. Yany fits into the category of kegel exerciser, benwa balls, orgasmic balls etc. This sex-positive piece allows a woman to strengthen her vaginal walls, thus increasing the intensity and potentially the quantity of orgasms.
I have a bit of experience with this type of novelty so I started off using the dual exerciser with a retrieval cord, although it comes with two sets of balls (one set that weighs 30g and the other weighs 40g) and a retrieval cord for a single exerciser. The feel of the metal balls inside with the weights moving about and hitting my inner walls was an immediate turn on. I will definitely be using these often to "strengthen my muscles."
Product Description:
Yani - Luxurious kegel balls, crafted from High Quality Aluminium. Sleek, sophisticated design with body safe materials. Complete with two sets of interchangeable balls. For women who want 'Only The Best.' These Nalone Yani Kegal Balls will give you deeper, stronger orgasms with a touch of luxury.
• Gold - 30g
• Blue - 40g
• Kegal Balls are made of Body Safe Silicone
• Phthalate Free
• Water Base Lube Recommended
• 1 Year Warranty