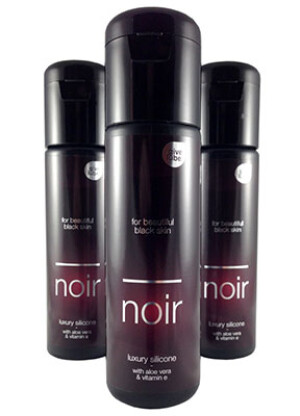 I am so excited about this product. I'm excited to use it. I'm excited to offer it to my customers. I'm excited to talk about it. Being an African American woman in the adult industry, at times I feel that this part of my identity is underrepresented. When I received this product I had to read it a couple times to make sure I was reading correctly "for beautiful black skin." I immediately thought, is there a new term for skin out there? There's no way they are talking about "black people's skin." Well they are. There is a misconception that "lube is lube," and this just isn't the case; in addition, black skin has different properties than non-black skin.
Noir by Give Lube is amazing and has both Aloe and Vitamin E infused adding to its moisturizing and long-lasting properties. I am partial to silicone lube, and immediately after applying this, I knew I would love this specific formula. It immediately creates a soft, silky and smooth feeling on the skin. I decided to test it out with some of my favorite pleasure toys, and boy did it deliver. A little goes a long way, and I didn't have to break and reapply.
Market Appeal
Give Lube's Noir is specifically created to serve "beautiful black skin" though can be enjoyed by all. It has added properties that that add moisturizing elements to leave skin feeling silky smooth. Noir is available in 100ml/3.4oz bottles (perhaps soon they will offer this in larger sizes, I'm hopeful and keeping my fingers crossed). The bottle has a flip-top cap and hasn't leaked out for me when traveling (those that travel with lube will understand how much of a problem this is).
Product Description:
Give Lube Noir is the specially formulated silicone lubricant especially for beautiful black skin.
For the first time there is a sexual lubricant made especially for black skin. Give Lube Noir is a luxury silicone lubricant which is infused with aloe vera extracts and vitamin E to help keep skin soft and nourished. This dermatologically tested lube is safe to use with latex condoms and doesn't contain any preservatives.
With a generous bottle size of 100ml of Noir silicone lubricant you can rest assured that you will be enjoying superior pleasure sessions for some time to come. The cylindrical bottle is elegantly and discreetly presented, with an easy to use flip to cap and squeeze to dispense style opening.
close
E-mail this to a friend
Noir
Email sent. If you wish to send to another person, click here.